Dubai World Central (DWC) is one of Dubai's most modern and rapidly expanding Free Zones. The zone is conveniently near Al Maktoum International Airport (the newest airport in Dubai). The site was also the location of the EXPO 2020 and will serve as a future key hub for firms exploring new opportunities. The name of the zone's residential sector, logistical section, golf club, and other amenities is Dubai South, depicting a city inside a city. Among Dubai's various Free Zones, DWC will be one of the most cost-effective and practical solutions in terms of both cost and demand flexibility.
In this article, we will talk about the Dubai World Central. DWC is one of Dubai's most famous and cost-effective free zones. Therefore, DWC guarantees that Dubai maintains its dominant position as a logistical and commercial hub. Let us see more:
About DWC Dubai
Properties in Dubai DWC
Transportation in Dubai World Central
Healthcare, schools, and amenities in DWC
Dubai World Central business setup
How can Connect Resources help you?
1. About DWC Dubai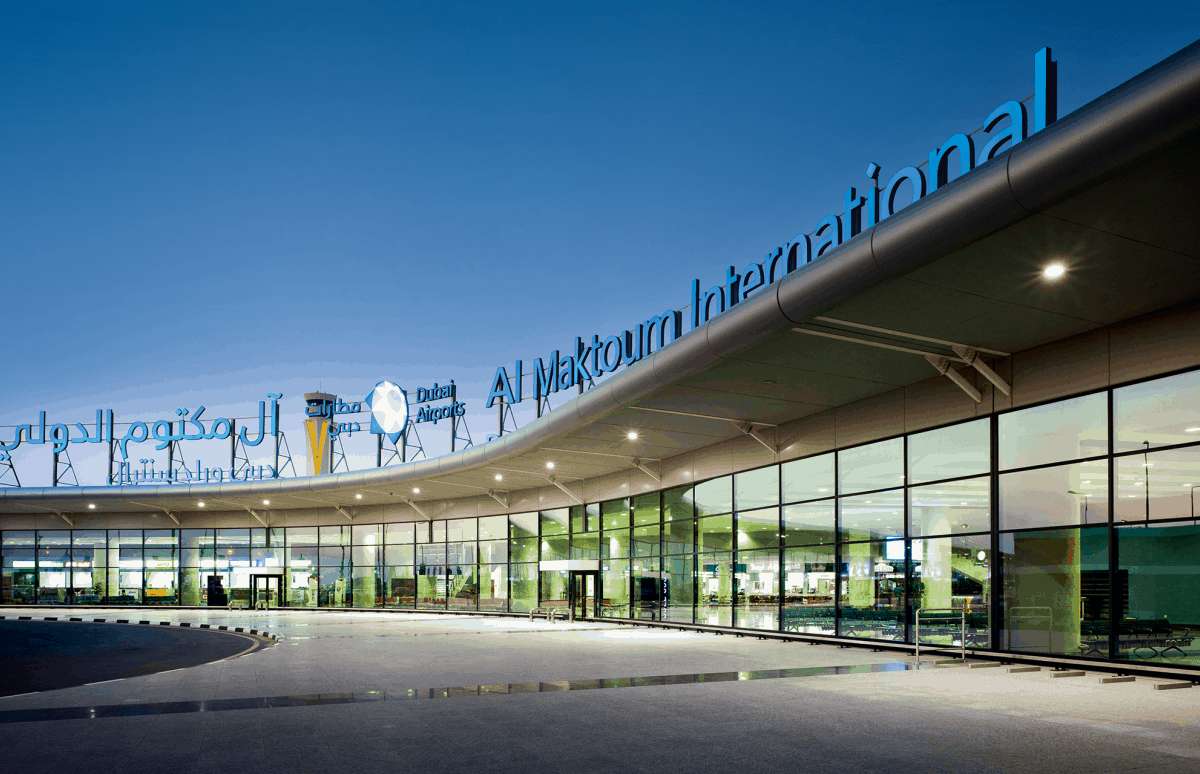 Dubai World Central, or DWC, is a massive multi-phase construction based on His Highness Sheikh Mohammed Bin Rashid Al Maktoum's concept. It lies 37 kilometers south-west of the mainland, directly across from the Jebel Ali Freezone Extension. Consequently, in 2015, this fast rising complex was called Dubai South.
The unique project, which covers an area of 145 square kilometers, was first announced in 2006 as a freezone and freehold expansion under the government's flagship. It aspires to establish a sustainable society with all of the area's facilities, such as leisure attractions, transportation, business endeavors, employment prospects, and so on. In the future, DWC will include eight distinct districts representing residential, business, golfing, exhibition, logistics, aviation, and other industries.

The tagline of Dubai South is "City of You," and the multifunctional project serves to attract hundreds of residents, employees, investors, and tourists. Properties in Dubai Central are in high demand because to their proximity to Al Maktoum International Airport, connectivity to key areas in Dubai, and proximity to the Expo 2020 site.
2. Properties in Dubai DWC
DWC is a well-planned area with all of the amenities required to live a comfortable lifestyle. Therefore, the area is rapidly expanding to support a population of approximately one million people. Thus, the Residential District has tall structures housing apartments for rent and sale. Also, the developers hope to create an entirely new city based on the well-being of its citizens by providing global residential setting in a suburban community.
Phase 2 of Dubai World Central free zone is known as the Residential District or Residential City, and it spans 184 hectares. A substantial portion of the project consists of huge villas and apartment complexes ranging in height from 5 to 10 stories. The Pulse and The Villages are the first 2 residential sub-communities, including a combination of townhouses and apartments.
Also, The Pulse community includes 822 apartments spread across several towers. The project will include 324 townhouses. The Villages, on the other hand, is expected to have 20,000 residential properties spanning from flats to townhomes, villas, and lofts.
The rental price trends in DWC Residential District can vary depending on the area and amenities. However, the standard of living stays unchanged. Rents at Dubai World Central start at AED 19k for studio flats and AED 30k for 1-bedroom units. Similarly, renting a 2-bedroom property in DWC will set you back at least AED 40k per year.
A studio apartment at Dubai World Central costs a minimum of AED 300,000, while 1-bedroom apartments start at AED 550,000. Likewise, the price range for 2-bedroom flats in DWC is AED 750k to AED 900K. There are also furnished flats available for as little as AED 500k, while those opting for exclusive units can purchase villas in DWC.
2.1 Popular locations in DWC free zone
The project's plan includes eight unified districts:
Aviation District
Logistics District
Commercial District
Humanitarian District
Residential District
Golf City
Exhibition District
Business Park
These districts are subdivided into various sub-communities. For starters, the Residential District is the biggest construction that will provide high-quality housing. Also, it will have its own restaurants, stores, sports facilities, and family leisure areas.
Second, the DWC Commercial District will serve as the development's commercial hub, with 850 towers comprising low and mid-rise buildings, 45-story skyscrapers, and 20+ 5-star hotels. Lastly, the Golf District will contain one of the best golf courses in Dubai, offering inhabitants both residential and leisure options.
3. Transportation in Dubai World Central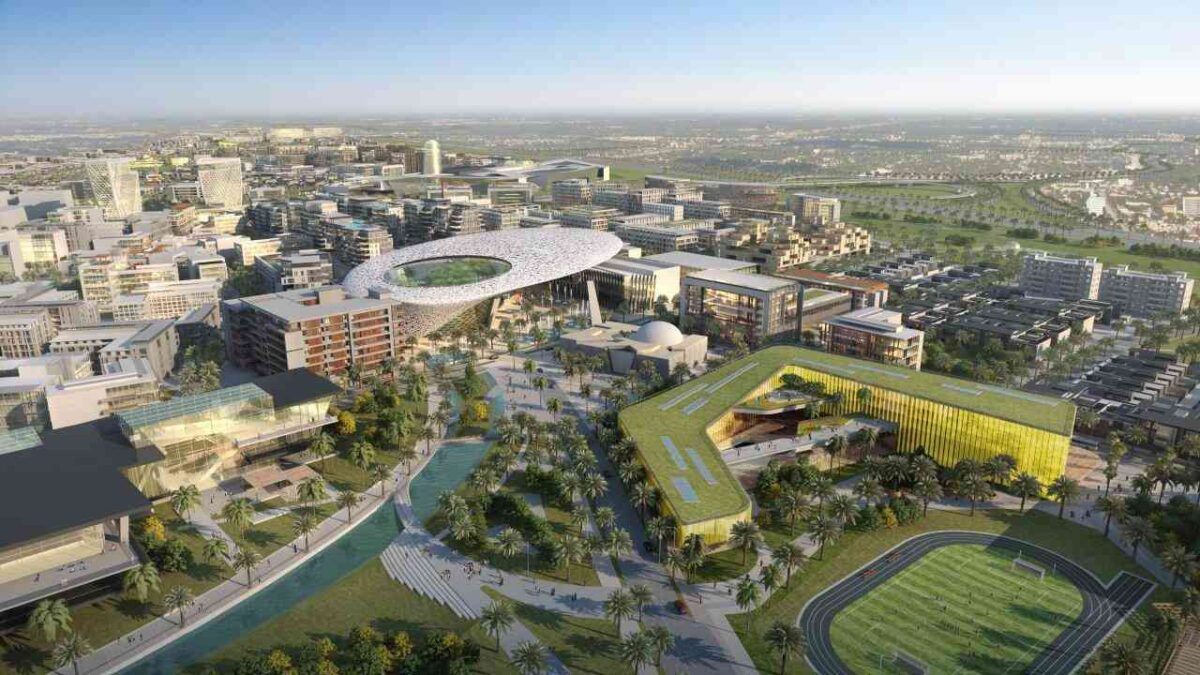 With constantly increasing infrastructure, access to Dubai World Central has grown easier by metro, public buses, and a broad network of highways. The neighborhood is easily accessible via three major highways: Emirates Road (E611), Sheikh Mohammed Bin Zayed Road (E311), and Expo Road (E77).
Residents can take advantage of RTA bus route F55. The shuttle runs hourly from Ibn Battuta Metro Station to Al Maktoum International Airport. Similarly, it supports the business aspects of the project, such as Logistics City and Aviation City. Additionally, the nearest bus stations to Residential City are in the Dubai Investments Park community (DIP). These are 14 minutes away and link to the Ibn Battuta and Danube subway stations.

Dubai World Central's transportation is planned to enhance significantly. The Dubai Metro Red Line Route 2020 expansion is intended to serve the Dubai South neighborhood. The nearest metro stations are currently UAE Exchange Metro Station and Danube Subway Station, both of which are 30 minutes away from Residential District.
DWC parking is also a great perk. The residential neighborhoods have designated areas with ample space for visitors. In addition, residents of private houses, park their vehicles in separate basements or garages. As the project progresses, visitor parking places will become a part of the community.
4. Healthcare, schools, and amenities in DWC
People living in residential neighborhood will have easy access to all amenities. Therefore, residents' needs will be met by the community's business and retail centers. Supermarkets, schools, clinics, and other surrounding amenities will be within a few minutes' walk.
4.1 Supermarkets in DWC freezone
Logistics City has a ZOOM market branch that is only 8 minutes away from the Residential District. The store sells a variety of groceries and has a modest café. Grand Supermarket, located near Gate 5, is another option at DWC. Residents can meet all of their needs with these two options, and more stores and regional groceries will open soon.
Hilal Al Madina Market, Nesto Caravan Supermarket, Parco Supermarket, and Naseem Al Madina Supermarket are some of the other supermarkets near Dubai World Central. All of these alternatives are in Dubai Investment Park, which is around 15 minutes away from the DWC Residential District.
4.2 Mosques, temples, and churches in Dubai World Central
Residents are able to attend the prayer call because a public mosque is nearby. Another mosque close to Dubai World Central is Al Maktoum Airport Mosque, where visitors can pray in peace. For Muslim residents who want to pray, mosques in Dubai Investment Park are close by. It contains Masjid Tayyab Mohammed Ibrahim, Juma Masjid, and Al Salam Masjid, all of which are within 15 minutes of each other.
There are currently no churches or temples in Dubai South, thus persons of other faiths must travel to other parts of the emirate. Churches such as United Christian Church of Dubai, St. Francis of Assisi Catholic Church, St. Mina Copts Orthodox Church Jebel Ali Dubai, and the Sikh gurudwara, Guru Nanak Darbar are located 30 minutes away in Jebel Ali's Al Muntazah neighborhood. The Shiva and Krishna shrines in Bur Dubai will need a 50-minute drive for Hindu inhabitants.
4.2 Schools in Dubai World Central
There are currently no schools or nurseries in Dubai World Central. A few nearby possibilities include Tiny Town Nursery, Chubby Cheeks Nursery, and The Children's Garden. All of these nurseries are located to the north of Dubai Investments Park, around 20 minutes from the Dubai World Central residential area.
There are a few additional schools in the vicinity of Dubai World Central, which is around 15 to 20 minutes away. GreenField International School uses the International Baccalaureate (IB) programme, Dove Green Private School follows the British lesson plan, Bright Riders School follows the Indian curriculum, and EYFS UK Curriculum for Foundation Years is available at GreenField International School. There is also a campus of British Columbia Canadian School nearby for those looking for a Canadian curriculum school.
Furthermore, for individuals interested in higher education, the University of South Wales Dubai nearby Al Maktoum International Airport and the University of Balamand Dubai are the closest possibilities. Both are 25 minutes away from Residential District.
5. Dubai World Central business setup
The formation of DWC as a free zone was a government initiative to convert Dubai into a premier commercial, trade, and aviation hub. Thus, DWC offers speedy and effective connectivity choices and is strategically positioned to foster robust business growth.
Here are some of the benefits of becoming a member of the DWC free zone community:
100% Tax Exempt Operations: Businesses operating in the DWC zone do not need to pay taxes or other tax-related components. Therefore, you are the sole proprietor of your company, and no corporate tax is levied.
One-Stop Shop for All of Your Business Needs: As a DWC member, you have easy access to the resources you need to expand your operations for the benefit of the company with which you are affiliated.
Work and Contribute to a Thriving Community: DWC is home to aspirant individuals who live and work in this vibrant atmosphere. Consequently, you can live a high-quality lifestyle with first-rate amenities.
Free Zone Services: DWC offers a comprehensive range of registration, lease, and licensing
Services for General Administration: DWC provides general administrative services such as:

Permits for Employee Entry.
Safety and health.
Licenses and leases.
5.1 Utilities and Infrastructure (UIM)
The one-stop shop for trade allows customers to choose between two options:
DWC Limited Liability Corporation (DWC-LLC)
For DWC-LLC creation, the client must complete the licensing and registration application form. Valid passport copies of any person specified in the application as a Director, Shareholder, General Manager, or Company Secretary are also confirmed. Additionally, all stakeholders must sign a certificate of incorporation, a valid trade license, and two copies of the DWC-Memorandum LLC's of Association and articles of association with the name of the business to start.
A branch of a foreign company or a branch of a UAE-registered company
Fill out a license and registration application to open a new subsidiary in a foreign firm or a UAE registered company. Hence, to complete this process, a copy of the approved board resolution, verified genuine duplicates of the Memorandum or comparable company documents, and a certification of good standing are necessary.
10,000 AED is the DWC charge or setup fee for DWC-LLC or branch registration. For every new business activity, they charge an additional 5,000 AED to the 10,000 AED licensing price. Furthermore, a free office space and two visas are included in the AED 33,000 establishment fee for a free zone business in DWC. In addition, DWC offers a free zone business with 100% ownership a tax-efficient operating environment.
When creating a company or business in a free zone, the following charges is also necessary:
Annual license renewals are 10,000 AED.
License cancellation with a fee of 2000 AED
The cost of replacing a lost license is 2000 AED.
6. How can Connect Resources help you?
Connect Resources is the best ally for those that want to move to the UAE and find a perfect business center Dubai World Central location. Hire us and enjoy the following services:

Do you want to start your business in the area and enjoy the perks of being near to the Dubai World Central airport? Contact us now! Send an email at +971 43 316 688. Also, you can write to contact@connectresources.ae.
In addition, if you are looking for employment in the UAE, do not search more. Go to thetalentpoint.com and submit your CV. All you have to do is register, upload your resume, and see the job opportunities available in the region. Consequently, if you want to know more about it, you can write our team at contact@thetalentpoint.com.