If you've been working for a while in your current job position, but you're interested in starting a second career because of several reasons, then you have to think about it how to do it since it's a significant decision.
Before making the change, it's essential to take the time to evaluate what you're currently doing and why it's not satisfying so you can begin to explore other career options.
In this article, you're going to learn everything you need to know about how to successfully pave your way to a second career, so you can be sure that you're not going to regret it. Let's observe:
Steps for successfully paving your way to a second career
Evaluate your current job situation
Identify your interests
Consider the alternatives
Identify job targets
Try and test your new interests
Find out about educational opportunities
Develop new skills
How can Connect Resources help you with your career change?
1. Steps for successfully paving your way to a second career
For most professionals, the most important is getting the perfect job that allows them to grow and make money to have an excellent quality of life. Sometimes we may feel like we need to make a change, and that's when we consider the option to start a second career.
Whether you're a fresher looking to start a career in Dubai and you'd like to make a change or an experienced worker who has decided that you no longer want to continue in your current job, you need to follow some steps to achieve your goals.
1.1 What are the reasons for changing your career?
There are many reasons why people decide to change careers, so let's observe the most common ones see if you feel identified with one of them:
You'd like to have a better pay
Your current job is too stressful
You'd like to have a better work-life balance
You're bored in your current job, and you want new challenges
You no longer feel passionate about your current field
You'd like to have more flexibility
You can also use a second career funding calculator to make all the estimations you need to make a better-informed decision.
1.2 What are the benefits of a career change?
If you no longer feel happy in your current job, but you're afraid of making a change, you have to know all the benefits that this decision will bring to your life. It's time to step out of your comfort zone so you can start having a better life.
What are the results of making a career change? Let's observe:
You'll feel happier
You'll feel satisfied
There will be a sense of accomplishment
You're no longer be stressed
You'll enjoy your interests and passions
2. Evaluate your current job situation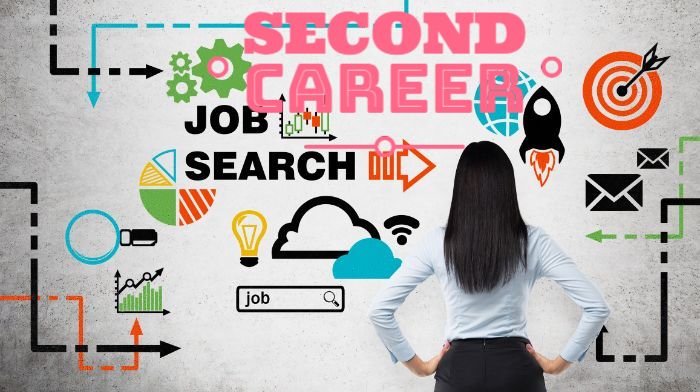 Before considering making the sudden second career change, it's important first to evaluate your current situation to know why you feel dissatisfied where you are and what it's the next thing you have to do.
How can you evaluate your current job satisfaction? Let's observe:
Keep a journal of your daily activities and your reactions to them. If you see that you're upset or unhappy most of the time, it's a sign to change.
Consider the aspects of your job that you like and dislike
Think about if you feel unsatisfied with your current job, your teammates, or the company's culture
If you determine that your current job is the cause of your dissatisfaction, you have to consider making a change to solve your situation.
You may even consider beginning your second career in Dubai or any other place in the UAE; in this case, you have to contact the Visa processing services of Connect Resources since its team is always ready to help you have all the documentation required to work.
3. Identify your interests
When you feel like you want to change and start a second career, you probably think also lost and wonder what you can do to solve this issue. If you've been working in your current position for a while, you may not know what to do or where to go.
For this reason, you have to evaluate yourself to identify your real interests, passions, values, and skills, to find a second career that adapts to them. How can you do it? Let's observe:
Think about your past roles to see what you liked and disliked about them
Consider the projects that you have done to identify your skills
Determine your core values and see how they can adapt to a profession
Make a list of your skills to see how you can use them in another career
Think about your passions and the way you want to live your life
If you want to start your career in the UAE and you need advice, you can trust the recruiters of Connect Resources because they can help you to define your interest and skills better and find the perfect job for you.
4. Consider the alternatives
The next step for making the change to a second career is to consider all the alternatives you have based on your interests and passions. It's essential to think about it very well to have clarity and choose a role that will fit your desires.
Once you have evaluated yourself and have a clearer picture of where you would like to work, it's time to assess career alternatives, and to achieve this; you have to follow a process. Let's observe:
Start researching career options that are suitable to your interests and passions
Ask your friends and family what career should be right for you
Do brainstorming with all the options you have seen
Select the options that genuinely seem to adapt to your profile
You can also consider a new job in the same industry, so this means that you don't necessarily have to take an alternative that it's completely different from what you're currently doing. Several options can adapt to your current knowledge and experience, so don't be afraid.
If you've done all the previous steps, but you're still unsure if it's going to be the right decision, then you have to learn all the signs that indicate it's time for changing your career, so you can be entirely sure that you're making the right choice.
5. Identify job targets
After you have listed all the alternatives, the next step in starting a second career is to identify the job options to consider which one could be perfect for you. Additionally, you have to do in-depth research on each of these options because you don't want to make any mistakes.
Perhaps you have in mind all the potential careers you'd like to try, but it's time to check the job availability. Let's observe how you can do that:
Make a comparative evaluation of the options that you're considering to select one or two
Evaluate the field that it's most interesting to you
Use the internet to check all the information available
Check the job boards to see the availability of options
Reach to personal contacts that work in those sectors and ask them the questions you have in mind about the job
Keep in mind that you have to prepare an outstanding CV and get ready for the questions you're going to be asked in an interview, so make sure to get well prepared and adapt yourself to the target job position to prove that you're the best candidate.
6. Try and test your new interests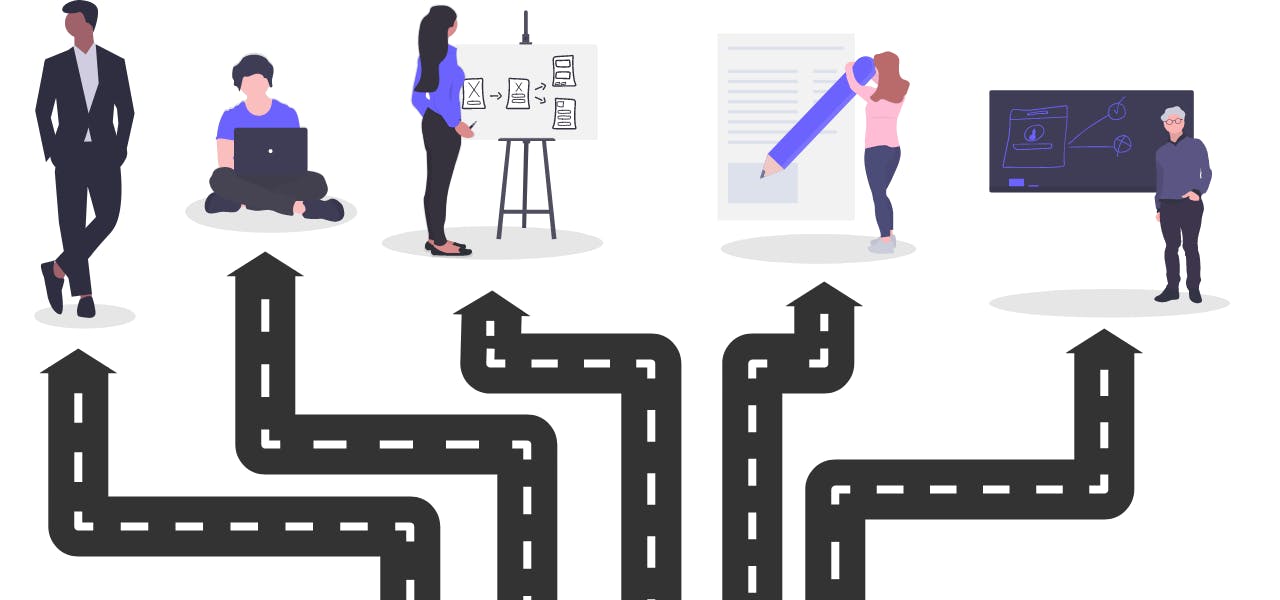 Once you've selected the specific career field of interest, and you have evaluated the potential jobs that you'd like to get, then it's time to try it out to see if making the change is the best decision for you.
Although getting a job could be difficult, you don't necessarily have to wait until landing a position to start trying your new interests in this second career because there are many options to test it.
How can you try your new career or interests? Let's observe:
Observe the people that have jobs that interest you to see how would it be like to do that kind of job
Identify volunteer and freelance activities to try your new interests
Find an internship program that is willing to take you to train you
Of course, if you can find a job in the new career, it's the best, and if you see an opportunity that attracts you, then don't be afraid to resign from your current job and try it out. The only way to find out if this new career is right for you is by trying and testing. If you see yourself feeling happy about this unique opportunity, then you'll know it's the best decision.
When you change your career, you have to go to interviews with your potential employers, so it's essential to follow a guide to succeed in any remote interview since they're becoming increasingly popular in the past months.
7. Find out about educational opportunities
Testing your second career is not the final step because you also have to continue improving yourself, and if you want to get a great job, you have to prove that you're well-prepared, so the best way is by continuing your education.
If you're incurring in a new field, you have to build your background to become the perfect candidate, and you can achieve it by following the next tips:
Take a class on a topic that is relevant to your new career to expand your skills
Go to one day or weekend seminars to learn more
Consider starting a master or studying a specialty
Contact professional groups to exchange knowledge
You can also try with a second career funding calculator to make a better decision.
8. Develop new skills
Once you find a second career that satisfies you and you feel passionate about it, and you've landed a job that you like, which makes you happy, the next step is to continue developing new skills so you can make your way for promotions.
After considering all the educational options, you have to make an effort to upgrade your current skills, to continue improving yourself for this new career. How can you do it? Let's observe:
Enroll in the company's in-house training
Sign up for classes to get new skills or to become a specialist in any area of your new field
Take your current skills and knowledge and adapt them to your new role
Keep in mind that it's not mandatory to go back to the university to start a new career; there's always the possibility to use your current knowledge to apply it to a new field, so don't feel the pressure to go back to study.
Developing new skills is an excellent way of improving yourself, both personally and professionally. One of the essential skills you have to unlock is your business decision-making.
9. How can Connect Resources help you with your career change?


Once you have followed all of these steps, you may feel more prepared to start looking for a second career, but there's one more thing you have to know to boost your chances of finding a great job.
It's necessary to develop a relationship with a recruitment agency like Connect Resources since it has a team equipped to assist you in your job search so that you can take the road to success in your new career path. Its recruiters will be pleased to work with you to find the perfect job.
With Connect Resources, you can have an ally because it's a recruitment agency in the UAE that helps job seekers find the perfect opportunity to match their skills and needs. You can trust this agency to help you with your career change.
Would you like to contact Connect Resources for assistance in your career change? You can call at +971 433 166 88 or send an email to contact@connectresources.ae, and you'll talk to one of their representatives that will gladly answer all of your questions.