In the United Arab Emirates, local authorities constantly devise new strategies to assist residents with their legal procedures. Consequently, they put in place the e signature card as a substitute years ago. Therefore, people can find solutions to cope with business operations and more with this signature card UAE.
In this article, we will cover the e-signature card, including how to apply for one, where to do so, and other topics. Consequently, electronic signatures are permitted in the United Arab Emirates in accordance with Federal Law No. 1 of 2006 Concerning Electronic Transactions & Commerce (UAE). Observe further:
What is an e signature card?
Where and how to apply for an e signature card UAE?
What is this e signature card for?
What is an esignature UAE?
How can Connect Resources help you?
1. What is an e signature card?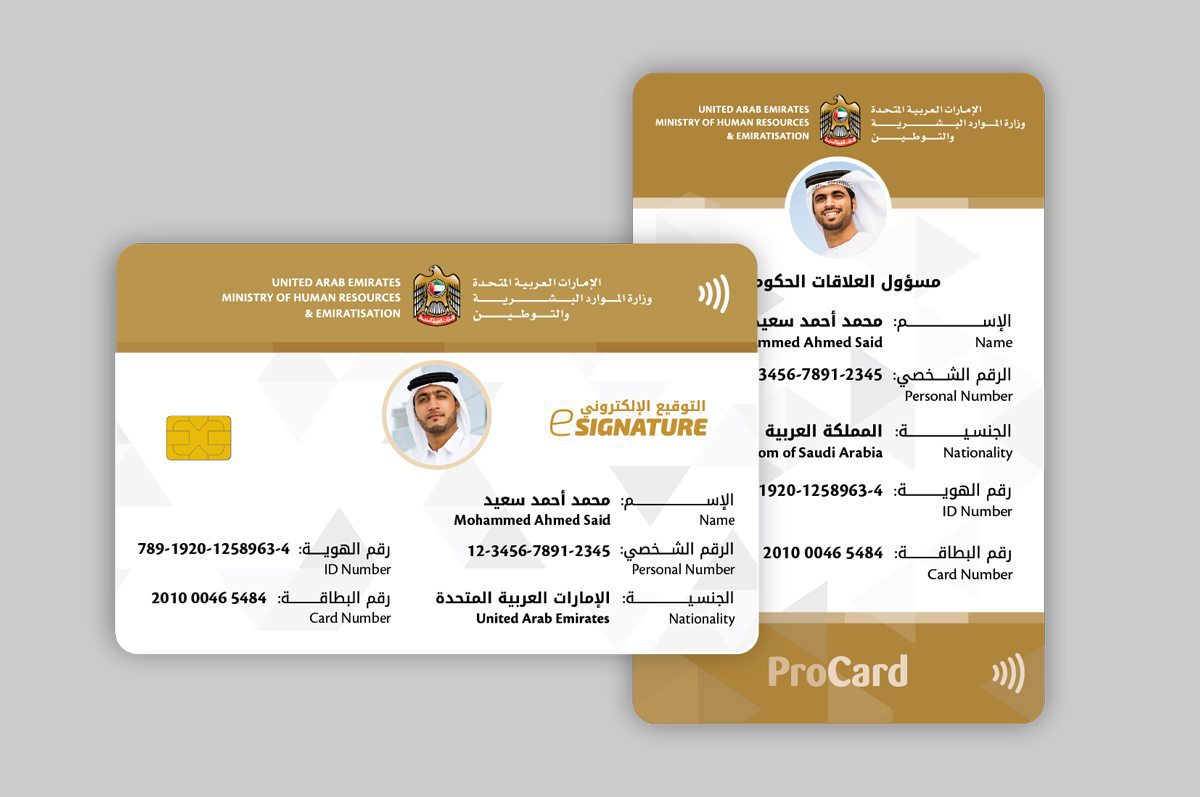 It was announced by the Ministry of Human Resources and Emiratization (MOHRE UAE) that a new e signature card is now in place. The electronic card UAE is a digital form of identification as a result, and it has an electronic chip that saves the cardholder's fingerprint and personal information.

It is not necessary for the owner or legal representative of the business to go to a service or client satisfaction facility in order to have their fingerprints scanned. As a result, the necessary services can finish when you submit your request using the smart card.
2. Where and how to apply for an e signature card UAE?
Users can get an e-signature card for Ministry of Labour transactions at service facilities (TASHEEL) and participating enterprises (e-forms).
The ministry has made available the second generation of the UAE e signature card for owners, certified signatories, and delegates. The new card is also in place for the convenience of institution managers and to ensure flexibility in finishing their transactions. Finally, go to one of the TASHEEL facilities to get the service.
As a result, the following documents are required for the esignature UAE procedure:
A recent color photograph of the authorized signatory on a white background.
Please let us know if the subject has a private phone number. The candidate must have a distinct individual phone number for each of his enterprises in all employment offices around the country. If the applicant does not currently have a private number on record with the ministry, he must open a file as a foreigner or citizen and finish the necessary application processes.
A genuine ID card and a duplicate of a valid passport.
Similarly, to receive an E-signature card for your company, visit one of the TASHEEL store locations situated around the country. The old manual PRO card, also called the internet card, which included the firm's number as well as the signatures of the owner and other authorized signatories, will be replaced by the new digital signature card.
3. What is this e signature card for?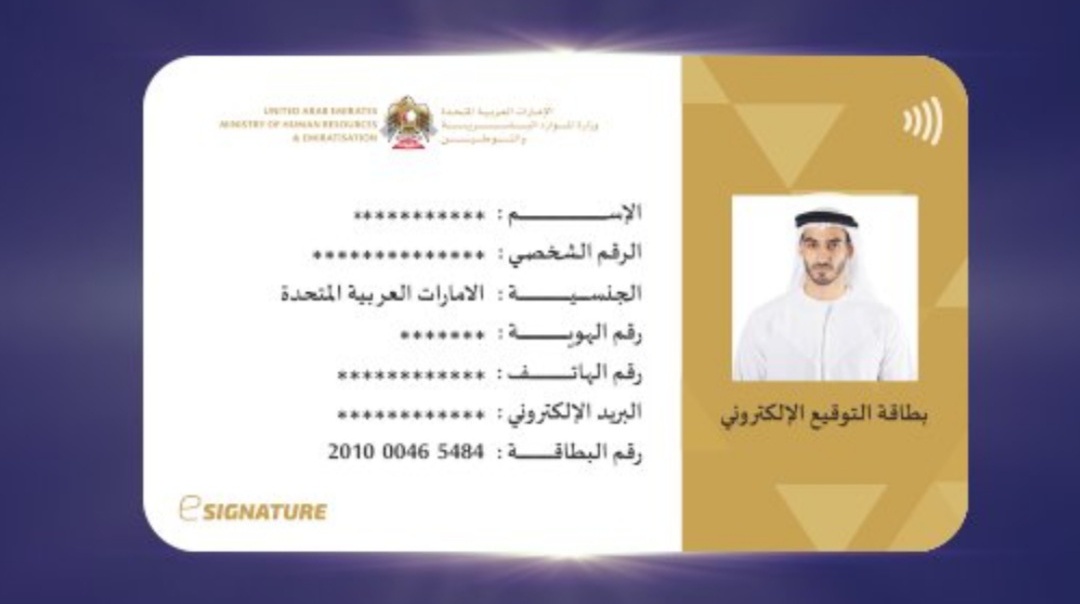 Users can also use their e signature card UAE for the following purposes:
The card is required for e-signature and transaction completion on the MOHRE's existing service delivery channels, which include the MOHRE app, service facilities, and Tawseel automobiles.
To protect the MOHRE's digital and smart systems, only authorized users can complete transactions.
The holder obtains a monthly balance statement detailing all of their movements.
The signature card UAE is fully secure in Dubai.

4. What is an esignature UAE?
The digital signature is the wet-ink signature in the digital age. It does not use any coding and is not based on any regulations, but it is fully secure and legally binding. Thus, to verify its identity and grant approval, an electronic signature could be an icon, a picture, or a procedure within the file or message. It was established as a result to validate documents. Because it does not undergo a validation process by an official certification body or service provider, the majority of people do not consider it to be an acceptable form of signing. But using it is straightforward.
An eSignature UAE is required in electronic messaging to verify the signatory (the sender of the message) and distinguish them from other parties. The message you submit and receive are then shown to be identical with a digital signature proving that nothing has been changed, added, or removed. It might be composed of letters, numbers, markings, symbols, sounds, or images.
A digital signature has the same legal force as a handwritten one. The Federal Decree under Law No. 46 of 2021 on Electronic Dealings and Trust Services made the use of eSignatures permissible in the United Arab Emirates. Therefore, in order to produce an eSignature, you need a digital certificate and e-signature generation equipment to be able to utilize it. As a result, certification service providers offer digital certificates. In conclusion, these certifications confirm the legitimacy of the signature device's owner.
4.1 What is a digital certificate?
A digital certificate is a document issued by a service provider that confirms the identity of the person or organization using the electronic signature-generating hardware. Thus, utilizing electronic signature manufacturing equipment, which is a fully enclosed gadget or electronic information, a person can use their electronic signature in the form of digital symbols and characters.
4.2 What is a DCSP?
A digital validation service provider is a certified or approved natural person or legal entity that offers digital certificates and services related to digital signatures.
4.3 How to obtain a DCSP permit
You can apply for a DCSP license via the Telecommunications and Digital Government Regulatory Authority (TDRA). Therefore, in order to work in the UAE, all providers of digital certificate solutions for eSignatures, eRecords, and eDocuments pertaining to eTransactions and/or eCommerce were required to obtain a license from TRA. To submit an application for a DCSP license, the following documents must be presented to TRA:
A copy of your company's articles of association and memorandum.
Info about your business' structure and ownership.
You are able to do DCSP duties thanks to the business license.
A rundown of your professional pursuits
Two years' worth of financial and accounting information, or less if your organization hasn't been around that long.
Insurance proof demonstrates that you are adequately protected to perform your obligations as a DCSP.
5. How can Connect Resources help you?
Connect Resources can assist you with any type of problem you may be experiencing with your company's processes. We can support you by providing different solutions to alleviate many of your issues. Also, we can provide you with freelance visa services, UAE property visa solutions, and more.
If you want to understand more about e signature UAE, our firm can assist you. We have a long experience of aiding businesses in the UAE in expanding and reaching their objectives. As a result, we provide a variety of services that can help a business grow and succeed. As a result, if you want to advance, you can rely on us to supply the necessary HR services:

Do you want to know more about the e signature card for your business? Get in touch with us, give us a call at +971 43 316 688. Also, you can write at contact@connectresources.ae.
You're also in luck if you are looking for work in Dubai. The Talent Point connects candidates with organizations. To initiate your job search, simply go to thetalentpoint.com, join, and submit your resume. As a result, you can locate the career prospects that are right for you in just a few clicks! Finally, if you want to learn more, please email us at contact@thetalentpoint.com.