Companies need to look for additional ways to offer outstanding customer service to ensure a good experience to their clients. One of the trends that has been on the rise in this regard is the E-Care system.
By offering digital channels of communication to ensure your transactions are done smoothly you can reach a wider audience. Therefore, it's important to know how digital care systems can help you achieve that.
In this article, you're going to learn everything you need to know about e-care in business. You can take your company to a whole new level once you start implementing new strategies that can boost your operations. Let's observe:
All you Need to Know about E-Care in Business
What is E-Care?
Why should businesses care about digital e-care?
What are the benefits of E-care?
What are the main values of a successful E-care system?
How to develop a successful strategy for digital care?
How can Connect Resources help you with E-Care?
All you Need to Know about E-Care in Business
Talking about E-Care may be something new for many businesses. Perhaps it's a new term and maybe they don't know what it means. But, it's important to learn all you can about new tools and strategies that can enhance your business.
In this regard, E-care or digital care is a system that companies implement to take their transactions from traditional to digital.
When we talk about the customer service journey, it can be through traditional or digital channels. Traditional channels are phone, e-mail, vendor, mail, or click to call. And, digital channels could be e-chat, a personal account, social media, forums, and more.

So, a client may begin his or her customer service journey using a traditional channel, a digital channel or mixing it up between these two.
Therefore, a business should aim to offer better channels and journeys to their clients to ensure customer satisfaction. By doing it, the corporation can be sure that the clients will be happy and they can even recommend the business.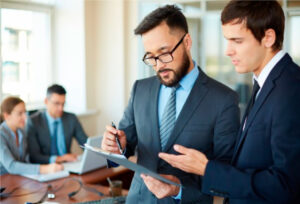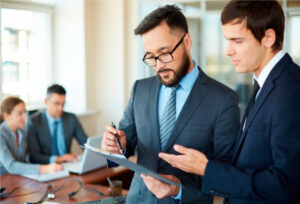 Learn how to plan for a successful talent relocation.
What is E-Care?
Before starting to plan a strategy for implementing E-Care in your business, it's necessary to know what it means.
When we talk about e-care we're referring to the delivery of customer service using other means instead of the traditional call centers or facilities such as service counters. Therefore, when a company implements an E-Care system, it could be using social networks, web-based user accounts, mobile phone and internet.
However, since there are many channels available to establish a great customer service, it's important to choose the best one that suits your target audience. In addition, it's important to use the ones that your customers want to use.
Sometimes, customer may choose to mix and match communication channels, but in other cases, they decide to move out e-care channels because they don't receive a great service from the company. This could be because the business doesn't have a range of e-care channels for clients to choose, or because they lack a great system.
Contact the best EOR – Employer of Record in the UAE.
How to choose the correct channels for the business?
Once you know that you must implement an e-care system if you want to reach more clients, it's important to do it right from the start. So, the first step will be to choose the correct channels.
Keep in mind that by offering a wide range of channels your customers may decide to use them and stay in e-care. Thus, this can increase your customer service and your sales.
Here's what you should do:
Define which channels you can offer
Map the customer journey through each one
Make sure that customers can change from one e-care channel to another within the same journey
Get to know more channels that are designed with new technologies. Trial them to see the reception from your customers.
Have a single contact point by managing channels centrally with a good software
Save time and money with these successful hiring strategies.
Why should businesses care about Digital e-care?
Once we know what an e E-Care system is, it's essential to know why it's important. Perhaps some businesses think that there's not any problem with traditional channels so it's not necessary to use digital ones.
However, taking a digital approach to customer service can mean a big difference. First of all, most of the retail purchases nowadays occur online, and approximately a 34% of said sales are done from a mobile device.

Since we live in a "digital native" era, people expect to encounter streamlined digital experiences. So, when a business offers customer service using traditional methods, clients may not be happy about it.
In addition, the business may even lose its customer because its competitors are using digital channels. By implementing traditional channels, the business may not look appealing anymore and the customer service could be long and tedious.
So, by not using the latest technologies and offering a better service to our clients, the business may be left behind and not have the interest of their clients.
Why should a business ensure that customers remain in e-care?
Implementing a solid e-care system is not the only step in this matter. In addition, the business must ensure the clients remain in e-care.
Digital journeys are proven to increase customer satisfaction. If you don't have the proper channels, your clients may move back to traditional methods and this could decrease customer satisfaction.
For this reason, it's essential to know how to develop a solid strategy in this regard.
Here you can see how to integrate your HR with your payroll.
What are the benefits of E-care?
Implementing a solid E-Care system can bring a lot of benefits for businesses and customers. Although implementing digital e-care can be challenging and complex, it's worth doing it.
Let's observe some of the benefits of this method here:
Higher customer satisfaction
As we have mentioned before, with the proper channels you can make your customers' journey easier. By ensuring a great service you can convince your clients to make a purchase, and if everything goes right, they can even recommend you.
Get the best IT outsourcing service.
Resolve customer support issues
With digital channels, business are able to provide a timely response to any issue the customers may have. By addressing customer concerns and issues and offering support when they need it, it can have an influence in the customer satisfaction level.
Cost-effectiveness
Using traditional channels such as call centers, click-to-call or email, can be more expensive than digital channels. In fact, by changing traditional methods for a solid e-care system, the business may save resources.
This is because the corporation won't have to spend tons of money and resources in traditional channels. Additionally, digital channels are cheaper and the business may save up to 50%.
See what you have to consider when planning your expansion regarding your manpower.
What are the main values of a successful E-care system?
Learning about the benefits that a solid E-Care system can bring to the business and clients alike can make you decide to start developing a solid strategy.
So, if this is your case, it's important to consider a few aspects. This is because implementing an e-care system from the ground can be complex. Many companies don't know where to start and they struggle incorporating a pure digital experience.
Here's what customers want to have regarding e-care systems:
A wide range of channels to choose from
Consistent digital experience
Flexibility and convenience within the system to migrate between channels
To achieve a higher customer satisfaction, it's important to consider the following values that can improve the digital e-care system:
Simplicity
Customers don't want to deal with complex transactions nor using difficult platforms. So, when it comes to choosing an e-care channel it's best to look for simplicity. However, this doesn't meant that you should neglect effectiveness.
When developing your system, you have to make it simple. It's not necessary to build a complex user interface. With a basic interface that offers operability and functionality would be enough.
Intuitive
A great e-care system should be intuitive, it means that it should be easy to use and navigate. In addition it should be functional. Let's observe some additional features that ensure intuitiveness here:
Information easy to find
Simple menus
Anyone can navigate in it, from a teenager to an elder
It should not have a complicate interface
Consistency
Customers want to make their transactions fast and easily. If they have tried using one of your platforms before, they may feel more confident to continue using it. But, if you introduce many changes that affect the system operability this may not please them.
So, don't make any unnecessary changes and updates because your customers want consistency. A streamlined service can make your customers to know how to navigate it successfully.
Meet customers' needs
Although you may want to implement a complex system, it's important to remember that the purpose of your e-care is to meet your customers' needs. You should be able to make changes to adapt it to your audience.
In addition, you have to make sure your customers see the value in your system and feel in control.
Discover how a payroll RFP can boost your management.
How to develop a successful strategy for Digital Care?
There are some key stages you should follow when it comes to developing a successful E-Care strategy. Here we have them:
Asses your current e-care program
Perhaps you already have an e-care program, so it's important to determine if it's working and what you need to fix.
Here's what you should consider:
Functionalities you're offering
Which digital channels you currently have
How you offer your customer service through your e-care system
Once you know what you have in place, you can start fixing what it needs to be fixed. To do this, you have to look at your system from your customers' perspective.
Develop an e-care map
By knowing the touchpoints, you can develop a map of your customers' journey. You should know which needs are solved at what point of the process, so you can see where you can improve functionality.
In this point, it's important to establish service-to-sale functionalities. However, don't push additional functionalities too aggressively because it may be detrimental for your business.
Measure by channel
After knowing your customers' journey through your e-care system, you can know focus on each channel. You should be able to measure the customers' experience through each channel. In addition, you should know if they can migrate easily from channel to channel.
Strategy for going online
Finally, you should be able to speed up the adoption of your e-care system by convincing your customers to adopt it. For example, you can point out all of the benefits of your digital channels, or even offering additional services through them to convince your customers to use them.
Keep in mind that you should appoint a team that it's in charge of these activities to determine performance and set goals that could boost the business.
Find out the difference about a staffing agency with an Employer of Record.
How can Connect Resources help you with E-Care?
When it comes to implementing a successful E-Care system it could be challenging due to all of its implications. But Connect Resources is continuing to create a positive experience for all our associates (outsourced employees ) by providing e Services Channel to make the digital transformation
Here in Connect Resources we can be your trusted service provider to ensure your business is effective. We can help you create and implement an excellent e-care system that allows you increase your customer satisfaction with our e services like Visa Processing , Cloud HR & Payroll, HR Management & much more. Our team of specialists is readily available to assist you.
Would you like to contact Connect Resources for assistance with E-care? You can call at +971 433 166 88 or send an email to contact@connectresources.ae, and you'll talk to one of their representatives that will gladly answer all of your questions.