As a resident of the country, you should know how to do the UAE Emirates ID fine check online. This process allows you to find out if you have any fines and pay them immediately to have a clean record. In this case, you may be in legal compliance within the country, which may prevent you from having bad times.
In this guide, we will show you how to check ID fine in Dubai, or other emirates. Likewise, and as a preventive measure, we will show you what the most common fines in the nation are.
Emirates ID Fines 2023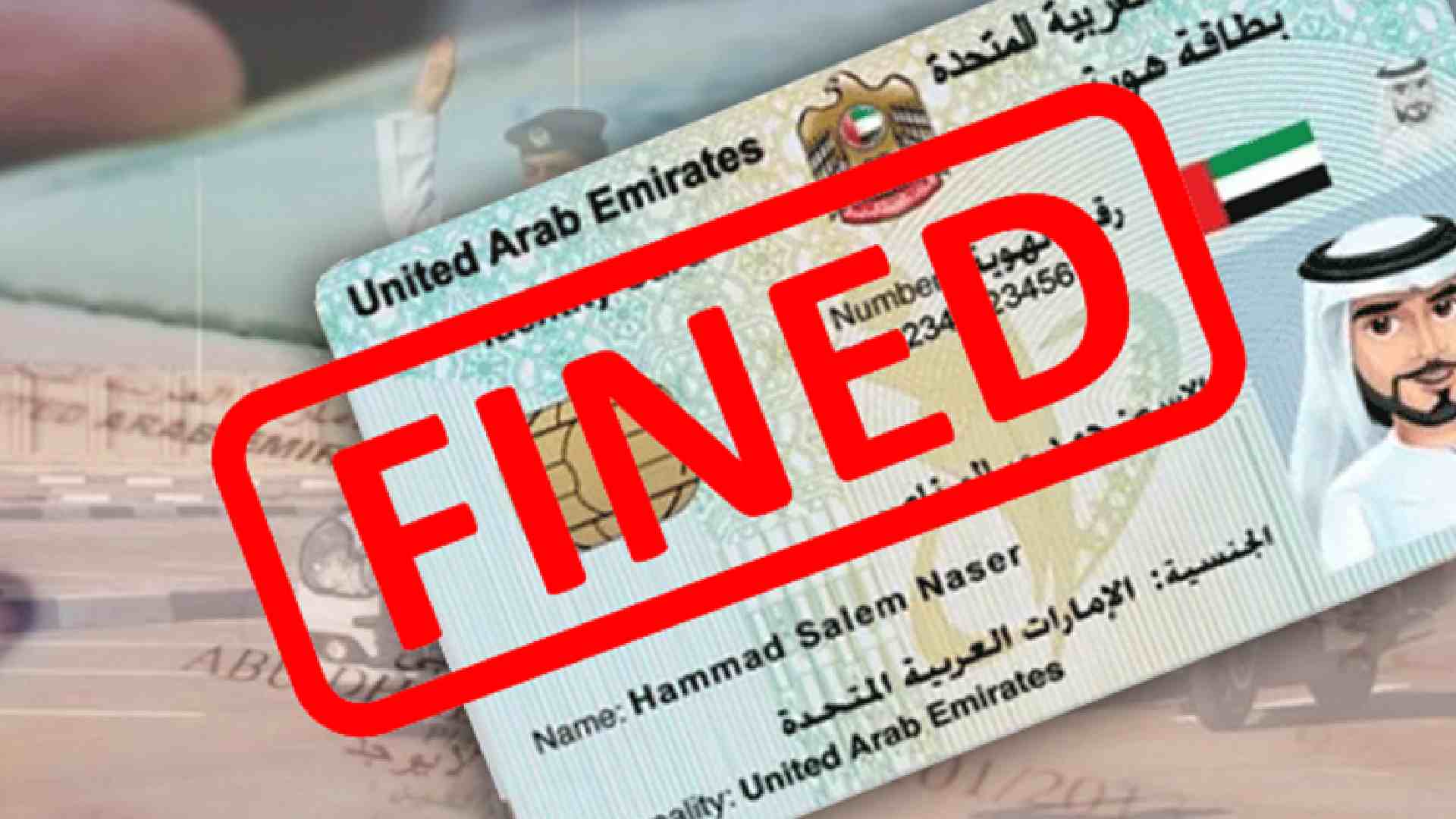 The identification fine is a penalty or fee that must pay anyone who violates regulations or laws in the United Arab Emirates. Likewise, it is affiliated with the identification card for the United Arab Emirates issued to an individual. In addition, the fines apply to GCC nationals, resident foreigners, and nationals belonging to the UAE.
Furthermore, you can pay your fines online using with your debit or credit card and pay them in installments or keep the record on your card.
On the other hand, if you do not pay the fine amount, it will remain on your identification card until you pay it. Interested parties can do the UAE Emirates ID fine check online or in offices designated for it.
Besides, if you are renew your emirates ID or UAE visa, you need to make sure that the fines are paid. Likewise, you must do it sometime before the ICA UAE gives you the new one. In this sense, the authorities will guarantee your solvency with the acquired obligations.
Emirates ID fine Check & offline Payment
Customer support establishments
To check for fines, go to a customer care center. To access the information, all you need is your Emirates ID or the specifics of your car. To locate the customer care center closest to you, click this link. The detailed instructions for checking and paying your fines with customer care centers are provided below:
Make an appointment with a customer support agent.
Get your papers ready. You will require your trustworthy Emirates ID or pertinent car details.
Find the customer care center that is closest to you.
Give the customer support representatives your Emirates ID or the details of your vehicle.
The personnel at the facility will utilize the information you provide to obtain a list of fines connected to your Emirates ID or car.
Pay the fine on the counter.
Emirates ID fine check
To do the UAE Emirates ID fine check online you can use different means. In this sense, it is important to know how to do it because the government is strict in complying with its laws. In addition, traffic violations are very common as well as SOP violations.
These violations will be reflected on your driver's license or identification card. Therefore, it is important to know how to check your fine in UAE or your new emirates ID card and pay them.
Dubai Police website
For the police fine check online you can use the Dubai Police website. Then you will need to follow the fine inquiry steps below:
1) Enter the official police website with this link: Dubai police
2) Select ACCESS-SERVICES in the tab
3) Click on INQUIRY AND PAYMENT OF FINES
4) Misuse of the document. Use your emirates ID for Improper or illegal use of the card will result in fines of AED 2,000.
5) Next, enter details such as license plate number, license and ticket details
6) Finally, to see your Dubai police fines, click on CONSULT
Abu Dhabi Police website
Another way How can I check Abu Dhabi fine on my Emirates ID? It is through the official website of Abu Dhabi police. In this way, you must follow the following instructions:
1) To access the Abu Dhabi Police ticket control system, click on PUBLIC SERVICES
2) Select PAYMENT OF TRAFFIC FINES
3) Then the system will take you to the TAMM Abu Dhabi website
4) Sign in with a UAE Pass or Emirates ID
5) Next, you will see the list of Abu Dhabi police fine check linked to the registered vehicle. If you have to pay a fine, you can do so directly through the website.
Also, the Abu Dhabi Police app has another platform for UAE ID fine check online. To do this type of verification, follow the steps given below:
1) Start by clicking on PUBLIC SERVICES
2) Select PAYMENT OF TRAFFIC FINES
3) Next, sign in with the Emirates ID
4) Then you will see the list of fines that you can pay online or directly through the website if required.
Abu Dhabi Mobile App
Also, you can do the UAE Emirates ID fine check online via the Abu Dhabi mobile app. In this case, the process for the mobile application is as follows:
1) First, open the Abu Dhabi Police mobile app on the mobile.
2) Make the registration with the Emirates identification number and the phone number (this will be if it is the first time you use the application)
3) Then, register your vehicle data
4) Finally, in the application, you will be able to see information by check Emirates ID fines online you may have. Also through the application, you will be able to verify and pay fine on your emirates ID.
Customer Service Centers
Another way to check and pay your Emirates ID fine is to go to the customer service centers. Therefore, to do the required verification, you will need to present your United Arab Emirates ID or vehicle details.
On the other hand, the Ministry of the Interior has a website in which you can pay these fines. However, for Emirates ID fines online each emirate has its own site including:
4) Sharjah Roads and Transport Authority
5) Dubai Roads and Transport Authority
If you want to travel to any emirate, take your identification with you at all times. This way you will be aware if you must make the payment of any infraction by the government.
Therefore, it is advisable to know about the UAE ID fine check online. This ensures that you are both aware of your violations, as well as making the payment to have them canceled. However, if you want more information about this and other processes, you can easily contact us.
Sahl kiosks
Here's a step-by-step guide on how to use Sahl kiosks to check and settle your fines:
Discover a Sahl Kiosk, usually situated in commercial centers or government agencies.
Prepare to interact with the kiosk by contacting it.
'Emirates ID Services' must be specified.
Pick 'Inquiry About Fines'.
Add your details here. Enter your Emirates ID number and any other required information by carefully following the instructions for validity.
Analyze the details. The information related to Emirates ID penalties will be displayed on the kiosk.
Save a copy on paper if applicable. Some kiosks provide customers the choice of printing or saving the information on a receipt.
You are prepared to finish the process and pay the fine once you have the required information.
Types of Emirates ID fines
In the Emirates, there are fines and penalties of various types that are related to the use of United Arab Emirates identification. However, the most common penalties you will see when performing the checking of your ID online in Dubai are as follows:
Late registration or renewal. This sanction is related to the registration or renewal after 30 days after the expiration of the document. For this infraction, you must pay AED 200.
Emirati ID card. You will receive a sanction if the identification card has been altered or damaged or if it has been replaced by another. The cost of this fine is AED 200.
Lost or stolen. In this case, you will receive the sanction if the card is stolen or if it is lost. In addition, you will need to inform the authorities and obtain a report and a new identification card. The fine to pay is AED 500.
Misuse of the document. Improper or illegal use of the Emirates ID card will result in fines of AED 2,000.
Use by unauthorized persons. You will receive a penalty if you allow someone other than yourself to use the ID card. The fine for this is AED 500.
False information or documents. If you present a document or information at the time of registration or renewal of the identification card, you will pay a fine of AED 1,000.
Unauthorized duplication. The fine for illegally duplicating the card is AED 2,000.
Likewise, these sanctions may vary depending on the seriousness of the offense and will also be subject to the law of the Emirates. In this sense, pay close attention to traffic laws so as not to receive fines charged on your UAE ID.
Frequently Asked Questions (FAQ) About Emirates ID Fine Check