UAE's Federal Authority for Identity and Citizenship (ICA) is working on a new enhanced version of the Emirates ID, & due to this reason, some UAE residents have not received their Emirates IDs after renewing them. Many citizens are concerned regarding this, since Emirates ID is required to access all government and some private services.
But there's nothing to be concerned about if you're one of them. All you need to so is simply download the ICA UAE Smart app and follow the on-screen instructions.
Card applicants can continue using all government services or other UAE based services whereby an Emirates ID card is usually needed by utilizing the e-version of Emirates IDs until the physical ones are printed and shipped, according to the ICA. The e-version for now is equally valid as the physical version.
For all services based on the e-Emirates ID, Federal Authority for Identity and Citizenship (ICA) has coordinated with the appropriate authorities, service and business providers.
Read More About : HR Outsourcing Firms can boost your remote hiring process
Information Regarding the Processing of Emirates Identification Card by Connect Resources LLC
The UAE Government is now experiencing processing delays in the issuance of Emirates IDs as they are undertaking improvements to their system and enhancing the features and design of the Emirates ID card.
However, Connect Resources LLC is a Gold Tawteen member and is receiving daily updates from the Ministry of Human Resources and Emiratisation (former Ministry of Labor) about the issue.
As soon as we know more on this situation we'll update this post. If you are an existing or prospective client of ours, please let us know if you require any assistance or clarifications on this.

How to Get the Electronic Version of your Emirates ID ?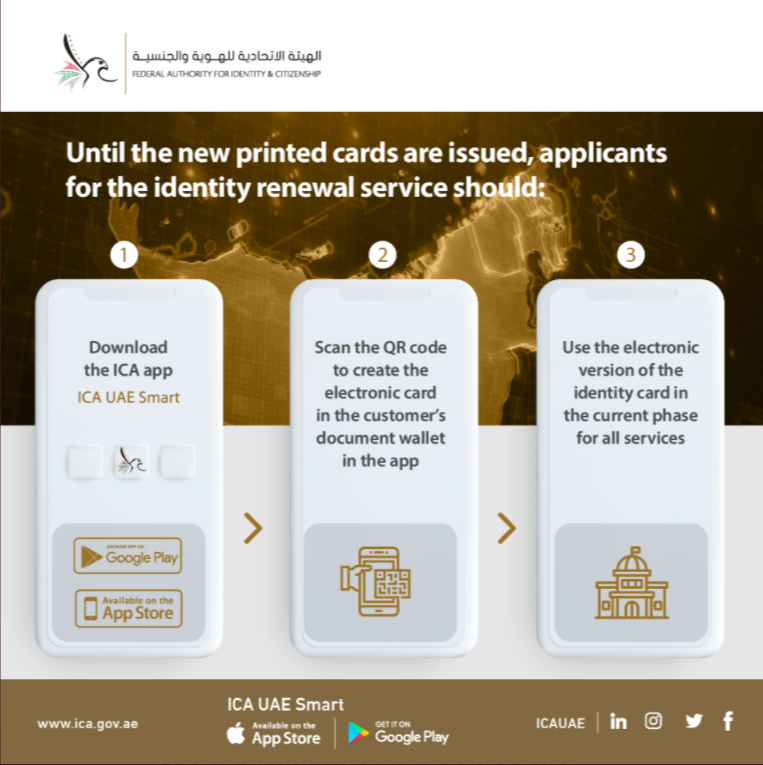 STEP 1 : Visit the ICA website or Install the ICA UAE Smart app.
STEP 2 : Use the UAE Pass or your own account information to log in.
STEP 3 : Submit an application for an Emirates ID renewal and wait for confirmation.
STEP 4 : Log in to the system and select 'Personal Wallet' from the drop-down menu.
STEP 5 : To obtain an electronic version of the ID, select it and scan the QR code.
STEP 6 : For all services, use the e-version as an authenticated version.

More about Digital Emirates ID
The Emirates ID is a government-issued identification card that is required by law for all UAE citizens and residents.
After a Cabinet meeting headed by His Highness Sheikh Mohammed bin Rashid Al Maktoum, Vice-President and Prime Minister of the UAE and Ruler of Dubai, in November last year new designs for Emirati passports and Emirates IDs were originally announced to combat identity fraud and increase national and international confidence in travel documentation, the new identification documents will include extra visual and electronic security elements.
How to obtain the upgraded version of the National Identity documents.

_____#ICAUAESmart #ICAUAE #eServices #SmartServices pic.twitter.com/yomcS6pNpQ

— Identity, Citizenship, Customs & Port Security UAE (@UAEICP) June 14, 2021
Read More About : UAE Golden Visa: Benefits, Procedure and Eligibility