On June 23rd, 2022; Connect Resources was featured in MEA Markets' magazine, one of the biggest and most influential publications in the region. In this particular piece, MEA Markets announces our organization as the leading workforce and manpower in Dubai.
In their article, MEA Markets refers to Connect Resources as the premier and most important company for managed services. Subsequently, dubbing our services as the most effective resource for business formation or company expansion in the Middle East. Similarly, they affirm that our tools and solutions are the most diverse in the UAE; while also being entirely personalized according to the company's needs.
Source Link: leading Workforce and Manpower Company – Dubai
Moreover, MEA Markets appoints us as "the partner that every business needs when thinking of expansion and development." In addition, Aaron Portero – Managing Director of Connect Resources – comments on how the company is constantly seeking ways to expand. Bringing new technology and trends to the forefront. Lastly, allowing businesses in the United Arab Emirates to reach new levels and succeed.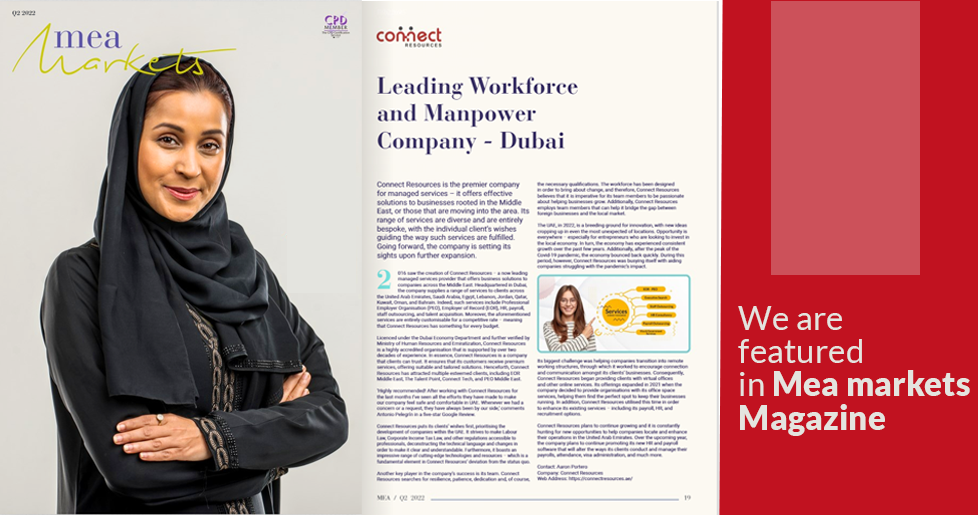 Connect Resources' main goal is to help companies with their growth and development. Therefore, ensuring that they abide by the laws in the United Arab Emirates and other guidelines. As a result, providing the necessary expertise and knowledge regarding different issues; such as enhancing operations, sufficing workforce, business consultancy, visa, and permit regulations. Ultimately, guaranteeing the most competitive rates in the region.
Recognitions like this article are a great incentive for us to keep up with our job of supporting and guiding organizations through any challenge they may find on the road to success. Consequently, assisting the local community with their development; while also, providing job opportunities to experienced and professional individuals that may be looking for them in the UAE.