On December 16th, 2022; Connect Resources appears in Bloomberg.com, one of the most influential financial websites in the world. In this particular piece, Bloomberg, announces our new services to help companies expand through Dubai and the United Arab Emirates.
In their article, Bloomberg refers to Connect Resources as the leading recruitment and staffing agency in the Middle East. Consequently, dubbing our solutions as necessary for companies looking to expand to the region. Naming us as the top local partner for business formation in the UAE. They also agree that our solutions and tools are the most versatile in the UAE and are custom to meet the needs of any business.
Source Link: Connect Resources Launches New Services To Expand Its Business in Dubai and UAE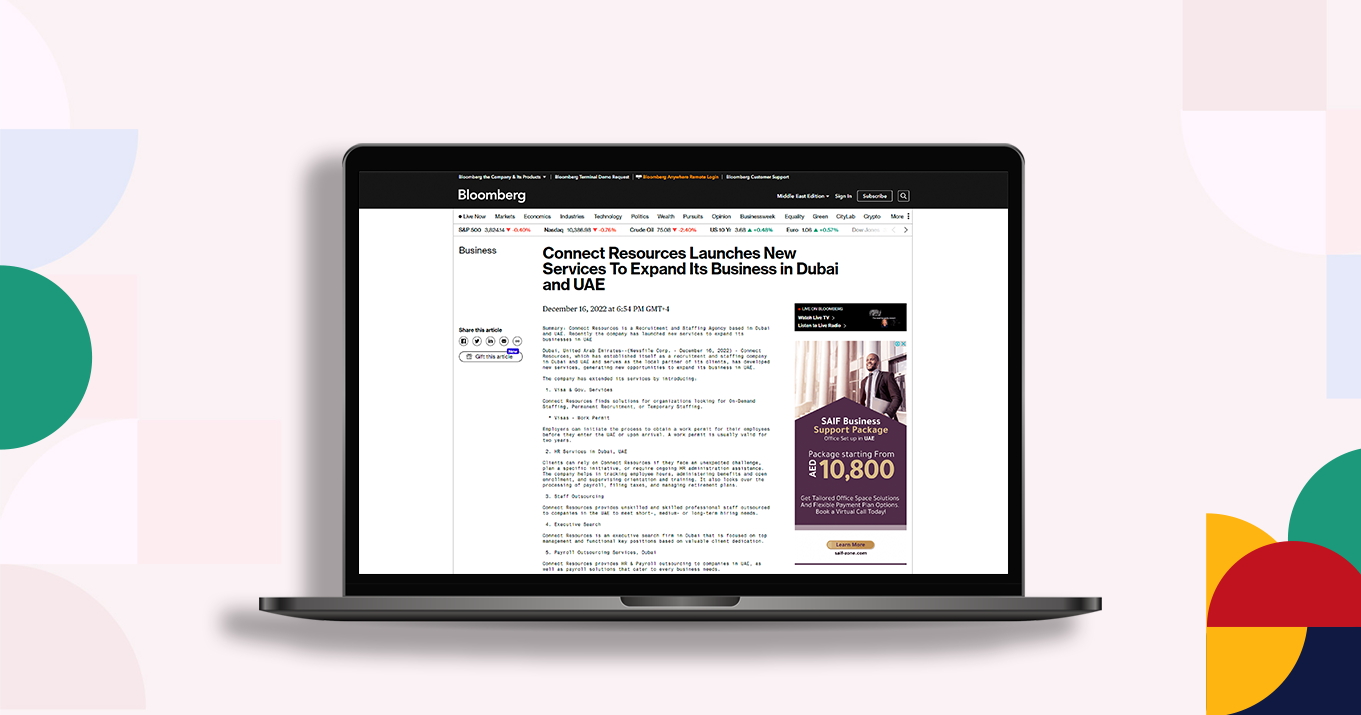 Furthermore, Bloomberg appoints us as a "ever-growing organization and a significant firm for outsourcing services in the UAE." Additionally, the Managing Director of Connect Resources – Aaron Portero – comments on how the company has the approval of the Ministry of Human Resources and Emiratization to legally operate in the region. Consequently, providing businesses with the necessary resources to develop and reach new levels of success.
The major objective of Connect Resources is to support business expansion and development. Making sure they follow other rules and laws as well as those of the United Arab Emirates. Therefore, offering the necessary experience and understanding with regard to several difficulties. Ultimately, ensuring the most affordable prices in the area.
Recognitions like the one in this article serve as a motivator for us to continue assisting and advising companies as they navigate any obstacles they may encounter on their path to success. As a result, it helps the local community flourish; while offering employment possibilities to experienced and qualified people who might be searching for them in the UAE.