On April 2022, the MEA Business Awards has awarded Connect Resources as the Leading Workforce and HR Recruitment Company in the UAE. This prestigious award is provided by the MEA Markets magazine.
In its fifth year, the MEA Business Awards is awarding companies across the Middle Eastern and African regions. This recognition is for organizations that demonstrate true determination to their particular industry.
Our Connect Resources family is proud to have proven our dedication to customer service, commitment to promoting excellence, and expertise within our field. We are overjoyed to know that we are considered the leading recruiting company in the United Arab Emirates.
Thanks to this recognition, we can keep pushing ourselves to achieve greater things in the staffing solutions area. This award will serve as motivation for our team members to maintain our customer service and dedication. Improving Middle Eastern and African companies to the highest level.
We have the honor of receiving this award from such a respected publication in the region. Connect Resources has more than two decades of experience in our field. We have been assisting organizations from the start to their full development.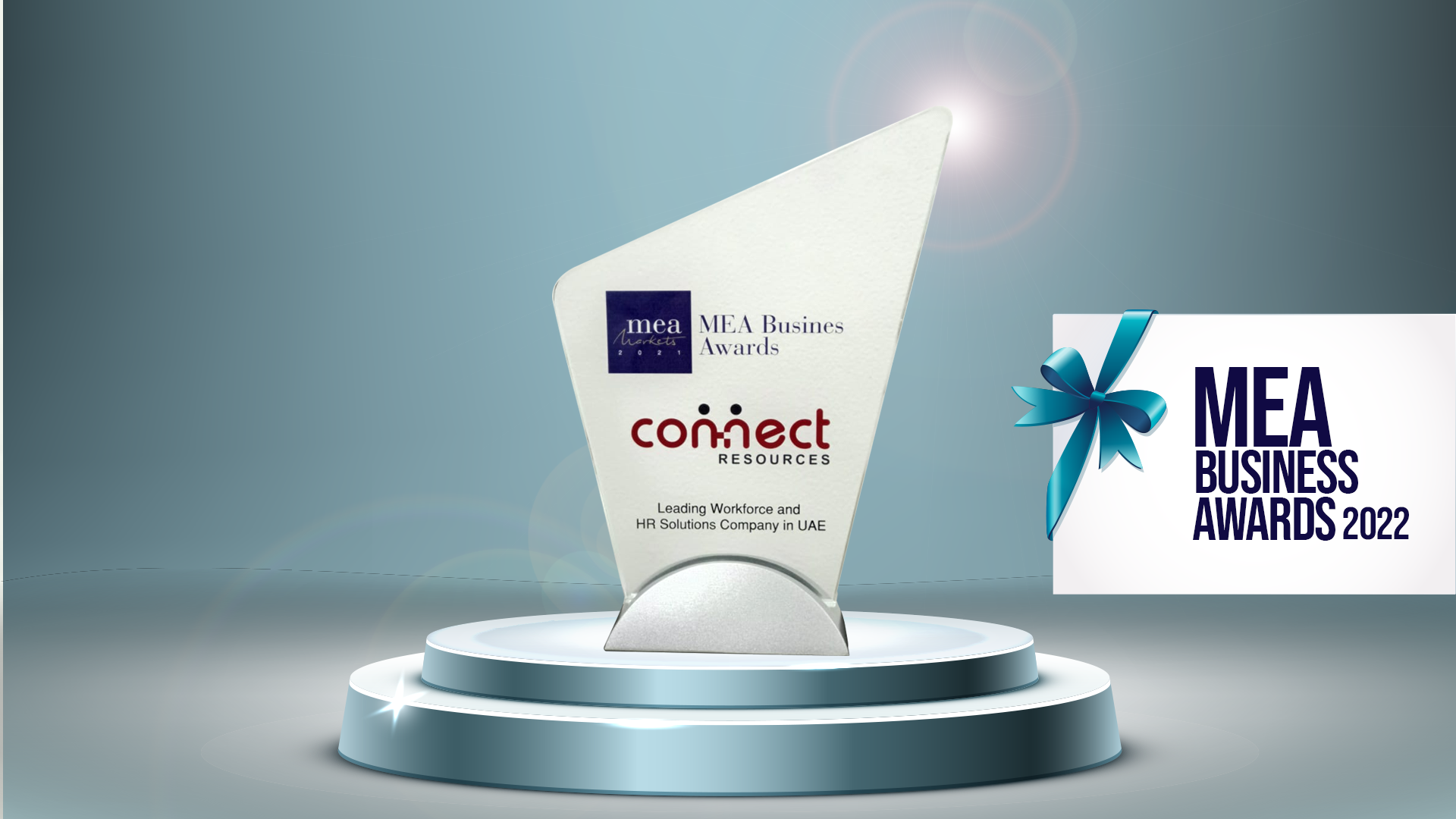 Leading recruitment and staffing agency in the UAE
Our company is officially the leading workforce solution organization in the United Arab Emirates. And would not have achieved this without our dedicated team members. Every single one of them takes care of providing PEO, EOR, HR, staff outsourcing, talent recruitment, and payroll services for our clients.
The team of Connect Resources characterizes by offering personalized solutions for businesses at competitive rates. We make sure to provide value through our expertise. Also, our wide skillset allows us to solve any difficulty that our customers may be experiencing. Thus, we provide unparalleled business insight and a sophisticated consultative approach to organizations and job searchers alike.
Our main purpose is to guide companies through the road to success. Subsequently, all of our services, resources, and technology are top-notch and can fit any need or challenge. We have a team of professionals that take care of making sure that our customers' objectives are met. As a result, we ensure that all of our solutions and services keep the quality standard that is expected from us.
Connect Resources counts on a workforce that is constantly acquiring new knowledge and upscaling their skills to keep up with every new business trend. We care about developing and updating our services constantly. Therefore, keeping our leading position in the Middle Eastern and African markets. Consequently, our purpose is to support companies and bring their staff members together through collaboration and respect for diversity and culture.
Top-notch services
We work side-by-side with organizations so they can make a change within their operations. In consequence, they will be able to achieve their goals and succeed in the United Arab Emirates market. Subsequently, we pride ourselves on being flexible and allowing our customers to decide what services they need and create their personalized packages at a low cost.
Besides our notorious HR and recruitment services, we offer IT outsourcing, contract staffing services, visa outsourcing, government services, executive search, Emiratization, and more. We are a well-rounded business consultancy company that wants to bring the best out of the organizations working alongside us.
Our plans
Connect Resources is a well-synchronized machine and we are always developing new solutions to make business operations more easy-going. We are constantly growing to satisfy our clients' necessities. Currently, we are promoting our new HR and Payroll Software to optimize the way companies manage their attendance, payrolls, and other human resources responsibilities.
Now that we have established our company as the leading recruitment and staffing agency, we want to go for more. We are sure that our new HR system will revolutionize the industry by allowing companies to rescind their in-house HR teams and automate certain processes. Our firm is always seeking more as we ensure that we will be the utmost business consultancy agency for a long time.
At the same time, we will keep the in-person connection with our clients. Providing them with the necessary system support and guidance through this new technology. Finally, allowing them to learn on their own time and obtain the most satisfying results in the process. We will always be here for their feedback to make our innovative resources even better than they already are.
MEA Markets
It is important to note how thankful we are that a publication like MEA Markets exists. They are in charge of highlighting the region's most innovative, influential, and powerful businesses. Their staff members are journalists, researchers, and industry insiders that are committed to bringing companies that are making a change in the market to the forefront.
Publications like this are very important to our industry. As they serve as a platform for small, medium, and big companies that may not be as well-known as others. As a result, they strive to give prominence to businesses that can provide services that keep pushing the Middle Eastern and African economies to the next level.
MEA Business Awards
The MEA Business Awards looks for honoring and celebrating diverse talents across this flourishing region. Their awards team makes sure to judge participants on their pure merit. Therefore, with this approach, they ensure that the most deserving businesses are acknowledged.

To give these awards, they obtain information from different public sources and the materials provided by the nominating parties. Lastly, their final judgment is cast according to the longevity of the business, its performance, growth, and any important innovation and plans.
MEA Market provides the winners of the MEA Business Awards with materials to help companies demonstrate their success to their customers, peers, and clients. Additionally, they provide us with promotional items to enhance the motivation of the reward. And also, they assist winners by providing a wide platform to display the businesses' strengths. Ultimately, this demonstrates that the rewarded companies are leaders in their particular fields.