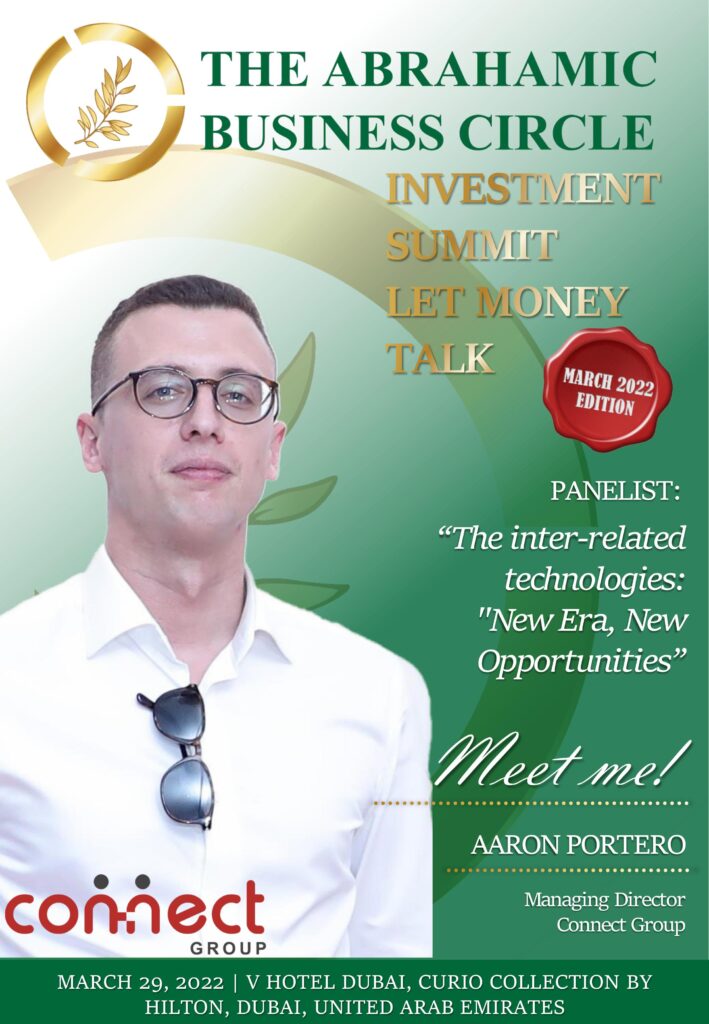 On March 29th, 2022, the "Let Money Talk" event organized by The Abrahamic Business Circle will take place in Dubai. In March 2022, the Manager Director of Connect Group, Aaron Puerto will be joining them as a representative of the Connect Group and Connect Resources family.
"Let Money Talk" will be the biggest event in the field of investment. It will bring together 200 delegates and investors from 56 countries around the world. Additionally, 20 industries, and more than 35 speakers and panelists. All of these individuals, meeting to analyze the present and future of business around the world.
This year, Aaron Portero is becoming an active member of The Abrahamic Business Circle. Due to this joint venture, Connect Group and Connect Resources will provide many business opportunities to investors and entrepreneurs.
As the Manager Director of both companies, Aaron Portero will be showcasing to the attendees of the "Let Money Talk" event the cutting-edge technology and market tendencies that Connect Group and Connect Resources are taking part in. And, ultimately, how they can offer their services and opportunities.
By being part of The Abrahamic Business Circle, these two corporations are looking to encourage many entrepreneurs and startup companies to expand their commercial radar and find new investment possibilities in the Middle East. In the same way, this event strives to be the center of economic negotiation through business.
Connect Group and Connect Resources
Under Aaron Portero's Managing Direction, Connect Group, is capable of offering resourceful amenities for companies in the United Arab Emirates. As a recognized company, Connect Group will be providing its vision on Company Setup, Real Estate Solutions, IT Resources, Outsourcing, HR Management, and other Business Services to the "Let Money Talk" event.
On the other hand, the Connect Resources team wants to showcase their distinguished Employment Solutions. Mainly comprehended by Employment of Record, Professional Employer Organization, Payroll Outsourcing, Executive Search, Visa Solutions, and Contract Staffing Services. Their main objective is that partners and job searchers alike can satisfy their necessities.
Through their valuable insight, Connect Group and Connect Resources, want to allow other investors to build and develop their companies. Permitting them to take advantage of what they have to offer as fully-established corporations. As a result, with Aaron Portero as a representative, entrepreneurs will find out that this great offer can take their businesses to the next level.
The Abrahamic Business Circle in conjunction with Connect Group, Connect Resources, and many other organizations, are inviting diverse individuals to feel free to attend the "Let Money Talk" event on the V Hotel Dubai, Curio Collection by Hilton. In fact, they will find the ideal place to grow their business connections, obtain capital, and form partnerships.

Startups can look to Connect Group and Connect Resources to help them suffice their workforce, build a customer base, find office spaces, and more to establish themselves in the market. In the same way, big corporations can form alliances to further develop their business.
Subsequently, if you are not sure where to go with your business, you should be part of this event. In the end, you can obtain knowledge from Aaron Portillo and other prominent leaders from the business world.